We're Getting Mutants in the MCU - The Loop
Play Sound
Mrs. Emma Jones is the eponymous protaganist of Emma. She worked as a maid in two different households before marrying William Jones.
Appearance
[
]
Emma is a young Caucasian woman with brown hair and brown eyes, and of average height. Her poor vision was first noticed by Kelly Stowner who lent her a pair of oval-shaped black eyeglasses. She was since worn the eyeglasses whenever she works. Her hair hair tied back in various styles, usually a milkmaid braid, with her bangs neatly swept off to the left side, though she often lets her hair down at night.
As a maid, she was required by her employers to wear a traditional Victorian maid's dress and a ruffled apron, topped off with a ruffled bonnet from which two long ribbon strings draped. Her hair was tied back in the same manner as before, giving her an air of professionalism.
When not in her maid uniform and before becoming an official member of the gentry, Emma could usually be seen in a plain black Victorian day dress, almost identical to the dress she wore as a part of her maid uniform, a deep maroon cape-let (shawl or mini-cape), black Victorian lace-up boots, and a brown pork-pie hat with a maroon band and trailing ribbon tails.
The only seen exception to her varying hairstyles is when she awakes after fainting at Eleanor and William's engagement party. Upon encountering William for the first time in months, her hair is tied back in a loose ponytail and is secured with a simple ribbon, likely a remnant of her up-do from just hours before. For her bedclothes, she usually wore, and likely still wears, a plain white nightgown with long sleeves and an ankle-length hem, both of which were trimmed with lace.
For special outings, such as her date with William to the Crystal Palace or her chaperoning of Aurelia to Eleanor and William's engagement party, Emma wears various kinds of sophisticated Victorian dresses. For her aforementioned date, she wore a simple yet elegant maroon day dress that her former employer, Kelly Stownar, once owned and wore as a young woman. She accompanied it with an ornate crystal necklace that Kelly also loaned to her, as well as her signature pork-pie hat. Her hair remained styled in its usual milkmaid braid.
When she accompanied Aurelia to Eleanor and William's engagement party, she donned an elegant blue gown trimmed with buttercream roses and white ruffles. She was asked to take off her glasses, much to her reluctance, and had her hair styled in an ornate up-do with ringlets to frame her face. She wore white gloves that reached up to her elbows and a silver choker as accessories.
Upon becoming a member of the gentry, it can be assumed that she transitions into wearing lavish and fashionable Victorian dresses and garments, typical of what the Victorian upper class woman would wear. However, the only instance where she is actually shown wearing a high-class outfit s is in the anime epilogue where William and her are in their garden looking after their children. In this scene she dons a white blouse with an elaborate ruffled neckline and draped sleeves from which ruffles also hang, which is tucked into a simple lavender skirt. It appears that even after her days of being a maid Emma styles her hair in a milkmaid braid with a simple lavender bow to decorate it. She continues to wear and treasure the eyeglasses she received from Kelly.
Personality
[
]
Emma is a demure, perceptive and soft-spoken young Victorian woman. Her diligence and professionalism in work is admired by her coworkers who tend to envy her reserved demeanor sometimes, and her employers, who value her immensely as an ideal employee. Her reliability as a Maid, fluency in English and work experience in London serves as an asset in the Molders household, where she soon gains the trust of her mistress, who brings her along to trips and parties. Her uncommunicative disposition later becomes the object of disdain and curiosity alike among the maids. She keeps her feelings concealed, once confiding in her roommate Tasha at bedtime. Her alertness and presence of mind saved the Molders household from being thoroughly engulfed in fire, when she directed the servants to move the furniture outside and extinguished the fire before it spread. Emma is shown to be trustworthy and kind to children and animals.
Biography
[
]
Emma was originally from a poor seaside Yorkshire village where she returns to after failing to meet William and resolve her relationship. She was kidnapped as a young girl to be sold to a London brothel. She managed to escape, but lost her way in the labyrinthine streets of London. She scraped for food working odd jobs here and there, until she was taken under the wing of Kelly Stownar who encountered her in the street. Kelly employed Emma as her live-in "Maid-of-all-works". Under Kelly's tutelage, Emma was taught a variety of skills necessary for an English woman living in a middle-class household. She was taught how to cook, manage the various duties of an all-purpose maid, including cleaning, shopping, laundry, etiquette and housekeeping. Special skills, usually reserved for people in the higher class such as reading and writing, as well as French were taught to her by her employer, a former Governess to a wealthy businessman's eldest son.
Relationships
[
]
William Jones is Emma's lover and husband. A miscommunication prevents them from meeting at his residence, thereby separating them for a long time. Meanwhile, William assumes the responsibilities of the heir of the household, directing business and proposing to Eleanor Campbell whom he later declines to marry. He loved Emma all the while they were separated by their respective fates, later reuniting with and rescuing her. He eventually manages to convince his family of Emma's virtues and marries her to the reluctance of his father and happiness of his mother, with the assistance of friends and family.
Emma's first employer and William Jones' former governess. She married at the age of 18, but lost her husband two years into the marriage, and did not have any children. Young and educated, Mrs. Stownar decided to become a governess, and tutored William and his siblings with an iron fist. Right before retiring she met Emma on the street, taking her in as her live-in maid.
Kelly taught Emma to read and to write, and developed her into a splendid Maid. She acted as a "bridge" between Emma and William, loaning Emma her dress, her necklace and counseling Emma in the pursuit of her love interest. Although she had her doubts about the relationship working out, she would support and care for Emma till the end of her life. Emma's relationship with the childless Kelly is reminiscent of a mother and daughter's bond. Fitting of the intimate relationship they shared, Emma signed her name as 'Emma Stownar' in her marriage certificate. Emma would visit Kelly's grave upon her next visit to London, placing a LIly of the Valley on Doug and Kelly's gravestones.
Emma's secondary love interest and William's best friend, Hakim Atawari is an Indian prince who attended Eton College with William. His sojourn at the Jones's residence was prolonged by his curiosity to see how Emma and William's relationship would progress. He ceased pursuing Emma after learning that she was in love with William. Frequently teasing her at the expense of William's embarrassment, his ambiguity towards Emma is resolved later in the story when he aided William in rescuing Emma from a life of destitution. He's often accompanied by a harem of Indian dancing girls and prefers to travel on elephants.
Housemaid of the Mölders household. Emma first met Tasha at King's Cross railway station when she was leaving for Haworth, with her mistress Dorothea Mölders. Tasha later shared the same carriage as Emma, and after learning that Emma was a maid like herself, she suggested that Emma apply for employment at the understaffed Mölders household in Haworth. After Emma was hired, her and Tasha shared a servant's quarter where they became close friends.
Gallery
[
]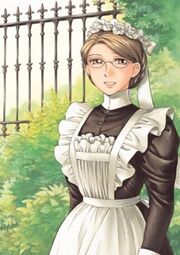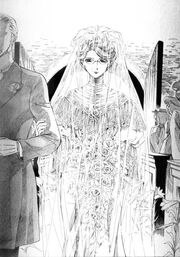 Trivia
[
]
The name Emma means "whole" or "universal".

Emma is used as a diminutive of Emmeline, Amelia or any other name beginning with Em.

In later chapters of the manga, it is revealed that Emma can read a bit of French.
Emma is good at cooking and not so much at riding a bicycle.
References
[
]
Coming soon...